COVID-19 Important Information
Last Updated: June 23, 2021
Campus Modified Services: Normal on-campus operations are increasing, and many campus buildings will begin to have more open access. 
The following guidelines are expected to remain in place until further notice. Email procurement@uci.edu with additional questions. Please check UCI Forward for the latest information.
Thank you for your patience and support as we work to maintain the health and wellbeing of our Anteater community while supporting essential business needs.
On behalf of our team, we wish you well.
Kind regards,
Snehal Bhatt
Chief Procurement Officer
Procurement Services
Borrowing University-Owned Equipment
Telecommuting employees need to defer to the following process in order to use their university-owned office chair at home:
If an employee decides to take their office chair home, they will need supervisor approval.
They need to fill out the proper approval chain in DocuSign for the Equipment Loan Agreement (University Property Leaving Campus Form).

The employee can estimate the value of the borrowed equipment on the value section of the form.

When retrieving their office chair, employees should be able to show a copy of the approved form to security personnel, if asked.
If an employee's office building is locked, they will need to coordinate with their supervisor to gain access to the building.
When the employee returns back to work, they will need to bring the borrowed office chair back, complete the bottom section of the Equipment Loan Agreement and have the supervisor sign the form to confirm that the chair was returned back to UCI. Failure to do so, will result in the department to be held responsible for the cost of replacement.
This agreement can also be utilized for borrowing monitors or other small items (for ergonomic need) that are easy to transport. Fixtures, i.e., items that are physically attached to the floors or walls, cannot be removed.
Employees are responsible for the care and transportation of their office chair or any other borrowed equipment.
Please maintain social distancing and wear a mask or a cloth face covering when visiting campus.
---
Non-UCI Affiliates/Vendors Visiting Campus
Normal on-campus operations are increasing, and as some campus buildings are opening, some buildings still have limited access. As campus buildings start to open up, non-emergency vendor visits should continue to be scheduled with UCI personnel in advance. For Vendors/Suppliers planning to visit campus, please see Compliance Guidelines issued by Procurement Services and make sure to review the Non-UCI Affiliates/Vendor Guidance with all your employees prior to visiting the UCI campus. Please review the UCI Executive Directive on Face Coverings that provides information on when to wear a face covering.
---
Deliveries for essential employees working on campus should not experience any disruptions as long as your building is open and able to receive packages.
If your building has controlled-access with limited or no receiving capabilities, reroute essential business shipments (instructions provided below) to UCI's North Campus Distribution Services facility, which will accept deliveries Monday - Friday between 7:00 a.m. - 3:00 p.m.
For temperature sensitive packages containing perishable goods, the facility will properly store goods in the appropriate refrigerator or ultra-low temperature lab freezer for short-term storage until timely pick-up is arranged. Please make sure to include your Department Name and UCINetID on the top line of the delivery address. See Instructions for Delivery Address for example.
FedEx, UPS, Amazon Business, and USPS packages may be picked up by department staff Monday - Friday, between 9:30 a.m. - 10:30 a.m.
To arrange a pick-up for perishable goods as well as times outside this window, please email Dylan Largent at dlargent@uci.edu.
Pallet-sized or larger deliveries will require coordination with Distribution Services staff (949.824.6734) as drivers must be directed to the Lot 91 delivery dock.
Please do not reroute personal packages to North Campus. Alternate arrangements should be made if you previously received personal packages at your work location.
For employees who are telecommuting, please make sure to obtain pre-approval from your supervisor when ordering essential business supplies as outlined in Section 11 of the Short-Term Telecommuting Agreement. Please utilize a PALCard for these purchases as goods can be delivered to a home address. Purchasing goods on UCIBuy or through a KFS requisition does not allow for home deliveries. All purchases are subject to regularly scheduled audits per University of California – Policy BFB-BUS-43.
---
Instructions for Delivery Address
Essential employees who are currently working on the UCI campus in controlled-access buildings with limited receiving capabilities, please use the following mail delivery address until further notice:
Your Department Name - UCINetID
C/O: North Campus Distribution Services
19182 Jamboree Road
Irvine, CA 92612
Please email PALCard@uci.edu with any questions regarding PALCard delivery issues or non-UCI campus addresses.
Enter Shipping Address Building Code: 9248
Enter the Department Name in Address Line 2 of the KFS Requisition
Enter NOROOM for Room
Reference "Order and Delivery Notifications" emailed by suppliers to Contract Managers or utilize UCIBuy Punchout catalogs to track shipments before picking up orders
Note: Deliveries to Home Addresses

cannot

be made using UCIBuy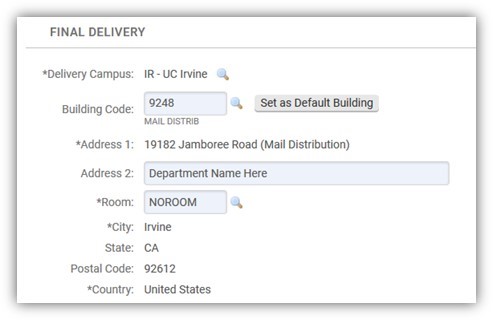 Please email eCommerce@uci.edu with any questions regarding UCIBuy delivery issues.
Use Building Code 9248 in the Final Delivery tab to direct deliveries to North Campus
Populate Department Name in Address Line 2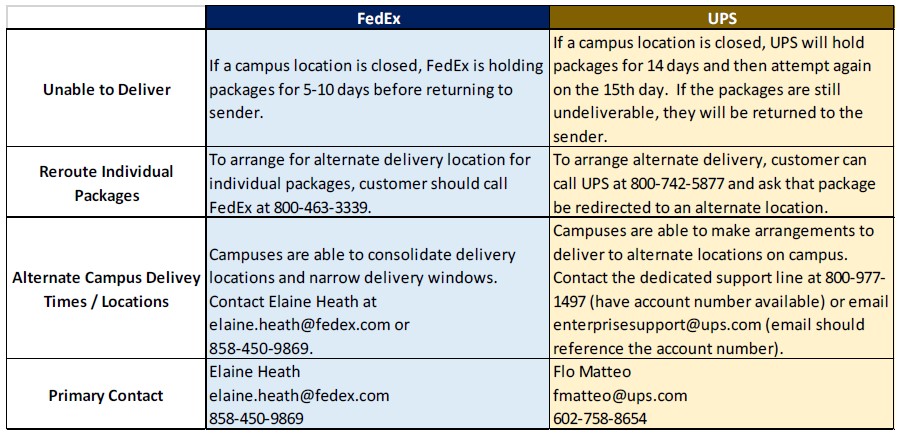 ---
COVID-19 Purchasing Requirements
To submit a request for funding from campus one-time resources to address these emergency needs, work through your division financial leadership to complete the UCI COVID-19 Funding Request Form (form available as DocuSign*, pdf, or excel) and submit to the Budget Office at: budgetoffice@uci.edu.
Please be sure to attach the pre-approved form to KFS REQS, PO, PCDO an GEC documents with Project Code COVID-19. If the purchase document amount is ≥ $10,000, regardless of funding source, the requestor would also be required to complete and attach the SSPR form to the KFS Requisition document.
---
PALCard Purchases for Telecommuting
Back-up documentation can include pictures of receipts, PDF attachments, or other images uploaded to the "Image Scanning" tab in the PCDO. Please be sure to redact any card information or non-UCI addresses. Departments or schools may have internal back-up documentation procedures.
Please refer to Section 7 of UCI's Short-Term Telecommuting Agreement regarding "Space and Equipment" which indicates the conditional use and setup of your off-site work space. For business expenses, Section 11 of the agreement states that purchases made with PALCard will need pre-approval from supervisors/department management for shipping to non-campus addresses. Please be sure to use the pre-approval email as part of the required back-up documentation for the PCDO, either uploaded in the "image scanning" tab or back-up documentation routed to the reconcilers/fiscal officers.
COVID-19 Purchases Webinar on 4/16/2020