---
Effective Monday, April 6th, 2020, UCIBuy will experience enhancements to its User Interface, which will continue to provide access to familiar site functionality.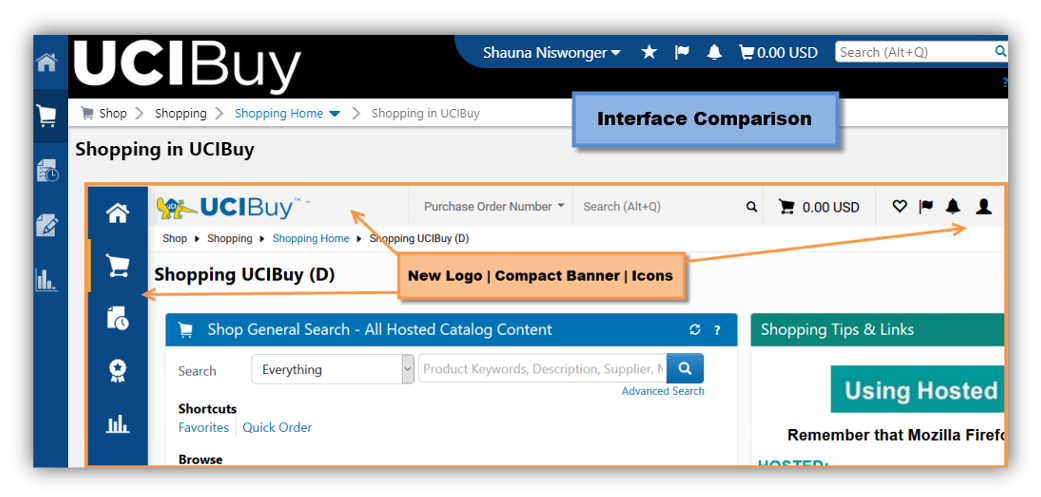 Highlighted Changes:
Elements in top site banner will appear more compact, including the logo and breadcrumbs in upper left
Navigation icons appear in the same vertical order and use intuitive symbols
Hovering over the left icons reveals the new fly out color scheme and existing menu options
One can still access the general search bar, current shopping cart, alerts and notifications and the individual user profile
Alerts and notifications count icon is now a color indicator displaying pending alerts or notifications without showing the actual count
User name drop down is now a profile icon to the right, providing direct access to user name, manage searches, exports, view recently completed carts, etc.
UCIBuy undergoes minor maintenance releases as well as scheduled major releases to update software, feature requests and enhancements to the platform. Relevant information impacting users will be communicated in advance.
Major Release 20.1 - UCIBuy will be unavailable from Friday, March 27th, 6 p.m. - Monday, April 6th, 7 a.m.
Past Updates:
Major Release 19.3 - UCIBuy will be unavailable from Friday, November 8th, 6 p.m. - Monday, November 11th, 7 a.m.
UCIBuy is stable and no issues reported
If you have not been able to resolve your issue after referencing the Technical Support page, contact the UCIBuy Administrator to report any specific error messages you may be receiving
Need personalized assistance?